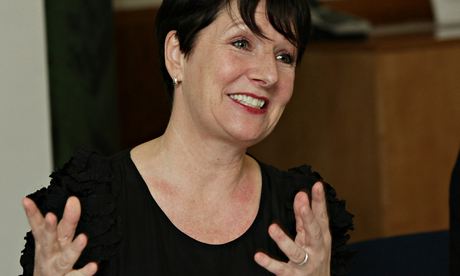 Case in point: former Countryfile presenter Miriam O'Reilly won her age discrimination
claim against the BBC. Photograph: Yui Mok/Press Association Images
Ruth Dudley Edwards, journalist and author
I agreed with Michael Buerk when he said last week that television performers whose primary asset was their appearance shouldn't cry ageism when they were replaced by newer models. "If you got the job in the first place mainly because you look nice, I can't see why you should keep it when you don't." He was talking primarily about presenters: "A very recent job description dreamt up to describe someone who fronts a programme without any special reason for being on it." Except, of course, their youth and looks.
This isn't a criticism of proper journalists like Miriam O'Reilly, who successfully sued the BBC for ageism when they dropped her from Countryfile. She was able, experienced, knew what she was talking about and, tellingly, had enjoyed a good career on radio. Here's a benchmark for TV presenters of both sexes. If they wouldn't have got a job on radio, they were probably hired for their looks. The harsh realities of movie stardom should apply. The gorgeous but limited Brigitte Bardot wisely quit before she hit 40 and the skids. The talented Angela Lansbury, whose looks were no more than passable, is starring in the West End at 88. So should it be with television.
Gloria De Piero, shadow minister for women and equalities
You might think it's right that Bardot quit movies before she reached 40 and "hit the skids", but I don't want to live in a world where women feel they have to retire from public view at such a young age. The logic of your argument is that it is acceptable for women to be valued only for their looks. I totally disagree. The majority of over 50s in the UK are women, but 82% of TV presenters over that age are men. That can't be right. Where do these women go? Why do they disappear from our screens? I grew up watching countless women on TV, from Sally James to Gaby Roslin and Sarah Greene, but few of them are on telly today. That says a lot about how we view older women. Growing older is acceptable for men; the TV industry regards them as wise and experienced. Their value rises because they are thought to have gravitas. It's the opposite for women. You say it is wrong for "proper journalists" like O'Reilly to lose their jobs, and of course I agree with you. But what about "proper journalists" like Selina Scott or Anna Ford? Ford left the BBC aged 62. David Dimbleby and John Simpson are still going strong at 75 and 69 respectively. Surely you accept that women and men are judged by different standards?
RDE You're wrong to say the logic of my argument is that it's acceptable for women to be valued only for their looks, Gloria. The logic is that if anyone – male or female – is hired for their looks, then it's fair that they can be fired when their assets depreciate. Bardot lacked the talent to work in movies once she lost her bloom and had the wit to realise that. Are you suggesting that she should have been offered permanent employment after her sell-by date? Catherine Deneuve, a fine actress as well as a beauty, was able to go on working into old age. Don't you see the distinction? Of course I don't think it's fair that women should be judged on their looks more harshly than men, but I'm a realist. It's for reasons of biology that women can fancy men decades their senior but the reverse rarely applies. How many unions resemble that of Aaron Taylor-Johnson (23) and his wife Sam Taylor-Johnson (47)? It's unfair, but it's life. However, none of that excuses the rampant ageism of the BBC and its shocking treatment of female journalists whose looks should not be an issue. I was thrilled that O'Reilly won her case and I'm delighted Angela Rippon is back.
GDP It's not biology that determines men that remain attractive as they age, while women who grow older are deemed not to be. It's plain, old-fashioned sexism. Men are often hired purely on the basis of their looks, but older men are described as handsome as they get older, while women are expected to stay young in order to be beautiful. Scarlett Johansson, Sharon Stone and Geena Davis have all complained loudly about the way older women are treated in Hollywood. But it's not just the movies. There is a pattern here. I can't imagine a primetime show in the UK being hosted by a woman of a similar age to the wonderful Bruce Forsyth, who is 86. I hope Tess Daly goes on for another 40 years. When that happens, we'll know we've made progress. More female TV executives would help. I was in the TV industry for 14 years and I only had male bosses. Older women aren't just absent on our screens, they are absent in offscreen roles too. By the age of 35, 45% of women have left their TV jobs. I am also glad Rippon is back, but when she complained about being marginalised because of age, John Birt, the BBC director general at the time, told her: "Now Angie, you must realise your time is over." Can you imagine him saying that to Michael Buerk?
RDE I understand your frustration, but you can't realistically sustain an argument that biology is not a major determining factor. It just is, and no amount of wishful thinking can change that. Culturally, we can become more enlightened, try to curb our species' more dangerous atavistic impulses and ameliorate our more regrettable instincts. But we can't do much about the primeval instincts that have men turned on by women of child-bearing age, while women are attracted to successful men who are good providers.
It is absurd to imply that only women suffer from ageism. Buerk specifically said that in the 1980s he felt "washed up" because TV became obsessed with "yoof". The appalling BBC coverage of the Jubilee regatta showed that tendency at its worst, with knowledgeable older presenters passed over in favour of the young, sexy and ignorant. The only one to come out of it with honour was Clare Balding, who had done her homework, and whose popularity taught the BBC establishment that the public are more discriminating than they're given credit for. Daly is excellent in Strictly but probably won't last as long as Brucie. Who will? But Mary Berry is 79, so who knows?
GDP If we surrendered to the "It's just the way it is" argument, we'd never change anything. We'd still have childhood chimney sweeps, dolly dealers and an all-male parliament. I'm in politics because I want to challenge things and I don't want biology to determine the longevity of a woman's career. Perhaps we aren't giving men enough credit. Surely they find strong, successful women who are good providers attractive too? Maybe it's outdated stereotypes of male and female desirability that are "past it"? I suspect viewers would agree that shows should reflect the audiences they serve, yet there are still some areas of television where women aren't represented at all. All the big political programmes are anchored by men, from Question Time to Marr to Sunday Politics. Women aren't sacked from these shows, because they are never even hired in the first place. I know we'd both like to see a UK equivalent of Barbara Walters, who this week announced she is to leave The View, the American Loose Women-style chatshow, at the age of 84. So let's hope that Kay Burley, Cathy Newman and Kate Garraway are still on our screens for years to come.